Susana H. MountDora,FL 8/22/2018
Booked Music Mania for our end of the year banquet for Legacy Gymnastics Center. And we got the photo booth, too. Tons of fun and the kids had a great time.
Loved it so much I booked Anne for my daughter's Sweet 16 just 6 weeks later. We danced and sang and the added lights made the evening magical. My daughter and her friends still talk about what a wonderful night it was.
Thank you Anne and Music Mania, I will definitely use you ANYTIME I need music and a personalized photo booth.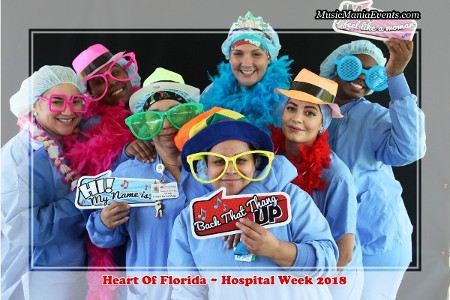 Good morning Anne!!
Thank you again for your service; everyone had such a great time taking photos and dancing. I really appreciate all the hard work you and Lauren put in to making the day that much better for my employees.
I look forward to working with you again on the next hospital event I plan!
Best Wishes,
Georgia Huston l Heart Of Florida Regional Medical Center l Davenport, Florida 33837
_________________________________________________________5.0/5.0
Quality of Service: 5.0
Responsiveness: 5.0
Professionalism: 5.0
Value: 5.0
Flexibility: 5.0
Demetria said...
The guests had a blast thanks to the photo booth and DJ. We really appreciated everything!!!!! Looking forward to using your service for our next event :) Music Mania deserves 10 stars!!!!!
Reviewed On: 06/08/2018
---
From:Christine Sacco-BeneTo:info@musicmaniaevents.com
Oct 5, 2015 at 3:12 PM
Anne, Before I came across Music Mania Events Inc., I contacted a few local DJ services in my area for my daughter's Sweet 16 and can honestly say I was woefully disappointed with their responses. They quoted some pretty high prices for their services and, in several cases, were rather ego inflated in how they replied. So, this note is truthfully heartfelt! From the time I made my initial contact with you to the actual event with our DJ, Alyssa, I was tremendously pleased. You were so incredibly helpful and patient when assisting me with figuring out what services to include, and I appreciated that a great deal. Alyssa, too, was awesome! She arrived early and was very professional throughout the whole party. I was particularly impressed by her fun nature. My daughter and her friends are a bit quirky; so, it made quite an impression on me just how responsive Alyssa was to their song requests. As a result of her being so fun and approachable, they all had a BLAST!
Thank you for helping to make my kiddo's day truly special!
Christine
---
Family Reunion July 2013
Kaydian Wedderburn reviewed Music Mania Events Inc — 5 star
9 hrs
Best DJ in Orlando! We had a blast with DJ Ann. She is the best!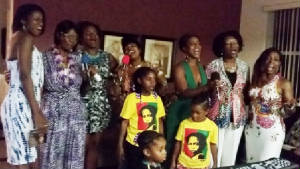 Hi Anne,
Thank you for the great music, everyone really enjoyed themselves. ... If I ever have another event in the area I will contact you.
Take Care,
Julie
---
English Estates Elementary School PTA End of Year Party 2014
Anne - I just wanted to take a minute to say thank you again for last night. You are wonderful with the children, and the kids had a great time.
Your set-up was perfect, and so much more than we usually get.
I also really appreciate the medley of song requests that you put together at the end of the night - I'm sure that took you awhile to put together.
We are all very grateful to you, and I'd be happy to provide a reference for you anytime.

Sincerely,
Julie LaBelle Seeley
---
2013
. . . Thank you so much Anne for all the memorable bday parties you've done for my girls. They were perfect. :)
Laura
---
8/16/13
"Thank you again Anne . . . kids had a great time which is always my one and only goal so thank you so much for doing a great job as always!!!
Enjoy the weekend and ill be sure to spread the word to my friends abt you!!"
Becca
---
What a Aweosome DJ Ann was at my Daughters 10th Neon Glow Dance Party!!!
The Kids had a Blast....!!!! The lights were sooo cool and She was so good with all the Kids ..!
They thought she was just Awesome!!! Now My Kids want a DJ at every Party:))!!
Event: Recent Event: Birthday Reviewed On: 11/23/2013
---
2013
Dear Anne,
Thank you so very much for the wonderful job you did for our daughter's 13th birthday party. It is difficult to manage a large number of new teens, entertain them and keep them engaged, and you did all of that and more. I would like to compliment you on the way you kept the party going, the kids and adults dancing and made sure no
detail was missed. So many people said that they had a wonderful time and complimented your way of keeping the kids interested and entertained through the games and the dance choices! At a time when kids are stuck between the kid and teen worlds, you had them dancing
and on their feet, and really enjoying being together. Thank you for being so professional, starting with the way you organized the party and the many details that go into hosting, as well as with the efficient, on time and professional tear down. I would encourage anyone that is thinking of having a party to use your services, as you
made my party planning easier and definitely brought a lot of comfort knowing I was working with someone that has done this before and had it under control. Please feel free to use me as a reference and pass on my contact information for anyone that would like to speak to a
customer.
I recommend you without reservation and thank you for the wonderful job you did in making our party a great success!
With gratitude,
Maggie Ramshaw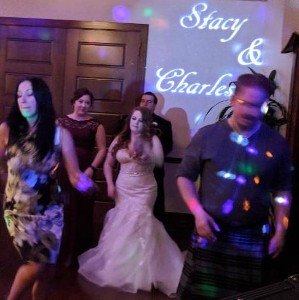 Wedding: 03/11/2018
Services Used: DJ & Lights
Reviewed On: 03/18/2018

5.0/5.0
Quality of Service: 5.0
Responsiveness: 5.0
Professionalism: 5.0
Value: 5.0
Flexibility: 5.0
Stacy said...
Anne was such a sweet calming person on the day of my wedding which I really appreciated. My wedding started to become a little unorganized and she stepped in to make sure we had an idea of when everything was going to happen. Everyone loved the music and had a great time:) loved the personal name lights for the wall and floor too!
____________________________________________

Karen M.
Orlando, FL
5/21/2018
Music Mania was very easy to work with. They were on top of everything during the weeks leading up to the party. They arrived early to set up and did an excellent job. I highly recommend them.
_____________________________________________
12/2/2017 Wedding: posted 12/26/2017 Aaron said...
Anne Day of Music Mania Events did an amazing job for our wedding! We lost our dj 2 weeks before our wedding and had to scramble to find a new one. I called at least 8 different dj's with only 1 answering but being way over priced. Also it was 8:30 on a Saturday morning so I was worried that I wouldn't hear back from anyone until Monday morning, but not even 5 minutes later Anne called back and was extremely helpful and was available to dj our wedding. If you're looking for someone who is immediately responsive and well organized and experienced than you should definitely go with Music Mania Events. Not only was she on point with everything the price was perfect! 200$ cheaper than our original dj that canceled on us. Also I highly recommend the green screen photo booth! That was the most popular thing at our wedding! Also they send you digital copies of all the pics so we got a great laugh the next day looking at them all. The wedding went perfectly through the night! Highly recommend Music Mania Events!
5.0/5.0

Quality of Service: 5.0
Responsiveness: 5.0
Professionalism: 5.0
Value: 5.0
Flexibility: 5.0

Chris said...
Anne Day/Music Mania Events met our every expectation.
She was helpful with planning of the event, event music, keeping the party alive and knowing who to listen to regarding additional songs on the day of the event.
Experience was key for us and that is why we selected our DJ. We were not let down at all.
Even with changes that had to happen on the day of our wedding were handled. We recommend this DJ.

Wedding: 11/15/2014
Services Used: DJ, Videography
Reviewed On: 12/17/2014
---
Weddingwire Review for Music Mania Events

Jose M.
Ontario, CA

1/20/2016
Hello Anne and Alyssa,
THANK YOU for a superior job! Our Wedding Ceremony and Reception was a Blast. Me and my husband really appreciate all the time and effort by
making our wedding day so special for us.We're very happy we found you.
Anne you did a great job the extra effort you made to accommodate my request. From the bottom of our heart Thank You. We had amazing time @ our wedding.It was perfect than i could imagine! Thanks for all the wonderful work.
You were Fabulous!!!
God bless,
Jeselle
---
WeddingWire Review
5.0/5.0
Quality of Service: 5.0
Responsiveness: 5.0
Professionalism: 5.0
Value: 5.0
Flexibility: 5.0
Stacy said...
Anne was so helpful with answering any questions I had! She was available whenever I needed to ask her something and got back to me right away! So personable and very accommodating to any request I had to really personalize my experience, I would recommend Music Mania to anyone looking for a DJ service!!
Wedding: 05/06/2017
Services Used: DJ
Reviewed On: 05/21/2017
---
WeddingWire Review
Quality of Service: 5.0
Responsiveness: 5.0
Professionalism: 5.0
Value: 5.0
Flexibility: 5.0
Andrea said...
Everything was perfect. No matter what changes were needed, Anne and team did it for me. It was wonderful!
Wedding: 03/25/2017
Services Used: DJ
Reviewed On: 04/03/2017
---
5.0 of 5.0 on EventWire's 5 Star Rating
Quality of Service:5.0
Responsiveness:5.0
Professionalism:5.0
Value:5.0
Flexibility:5.0

This event included DJ, Karaoke, Trivia & Live Entertainment

becky said...
you guys did so great omg. thanks so much and thanks for working with so many people and providing great entertainment!! Becky white
Event: 01/10/2015
Event Type: Adult Birthday
Services Used: DJ
Reviewed On: 01/13/2015