This is the ultimate Rock-Star Party for kids.
Give them a chance to take center stage and shine!
Ages 7 and under - we recommend Modified Karaoke & Live Projection
Ages 8 and up - Go for the Karaoke Pro Set-Up - our Birthday Party Special!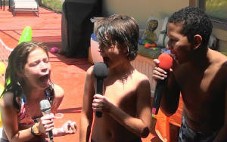 Hire A Karaoke DJ!
This is a must-have at Milestone Birthday Parties, Family Reunions and Corporate Events!
It takes Adults a little while to 'warm up'. We recommend starting with Trivia as an ice-breaker, so they'll be ready for Karaoke and Dancing faster than you can say Alex Trebek! Karaoke & Trivia Package Options
Hire A Karaoke DJ!
Want to keep your party 'humming along'? Here are some suggestions:
Go for group karaoke sing-along using the projector and screen. Our DJs will pass the mic to the crowd so no one has to formally take the stage.
Have a Karaoke Show during the party. Guests can pre-register with us and we'll put on an American Idol style segment as a highlight during the party.
Hire A Karaoke DJ!