This is a must-have at Milestone Birthday Parties, Family Reunions and Corporate Events!
It takes Adults a little while to 'warm up'.
We recommend starting with Trivia as an ice-breaker, so they'll be ready for Karaoke and Dancing faster than you can say Alex Trebek!
Karaoke & Trivia Package Options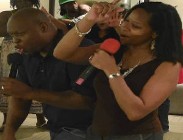 Hire A Karaoke DJ!